Your frequently asked questions on this page.
Can I submit poetry for publication here?

If your poetry is of highest literary quality, you may submit to Innisfree Poetry Journal
THE AUTHOR ME ONLINE ANTHOLOGY

This collection, edited by 4-book poet Dan Masterson, contains exceptional poems that have appeared in print or online journals. Since publication rights return to poets on publication, they are free to allow reprints of their work. Tradition suggests that such reprints not appear until the primary journal has been replaced by its following issue. Journal editors are encouraged to suggest poems for inclusion in the Anthology, as are readers and poets themselves. Author Me will contact poets for reprint permission. To submit a poem for consideration, send a copy of the poem (embedded in the text area of an email), the poet's name, and the original journal in which it appeared to anthology@author-me.com

If I publish a poem, how will people know it is here? AuthorMe.com is listed in the major search engines.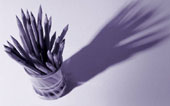 FAQ